Mark's tattoo was done by an artist in a small shop in Liverpool, England called "Richie's". Mark is guy #5 to have a tattoo posted on this site!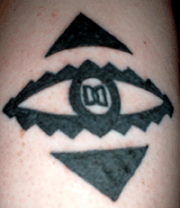 In his own words....
I think it's great to see other people with duran tattoos. I finally got mine done on my right arm, so here it is. I got the design from earlier duran covers and added the double d so other fans can identify the design. It's my third tattoo, but the only one I didnt pass out on when having it done -- so makes it even more special now. Can't wait for the reunion tour and to show it off at the gigs. Cheers...
Back to Duran Duran Body Art
---

For general Internet Radio inquiries: djoktober@latebarradio.com
For 'Meltdown' requests and comments: djoktober@trusttheprocess.com